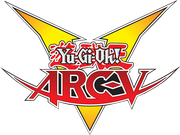 Yu-Gi-Oh! ARC-Ⅴ (read as "Arc Five") is a Yu-Gi-Oh! anime series, the fourth main spin-off series, which began airing in Japan on April 6, 2014, following the end of Yu-Gi-Oh! ZEXAL. The series focuses on a new protagonist, Yuya Sakaki. As with the previous spin-offs, it focuses on (and introduces) a new type of Summon, Pendulum Summon, as well as Pendulum Monsters and the mechanic in general.
This series marks the only Yu-Gi-Oh! series to show all unique types of Summoning from the Yu-Gi-Oh! Trading Card Game: Fusion Summon (from Yu-Gi-Oh! and Yu-Gi-Oh! GX), Ritual Summon (from Yu-Gi-Oh! and Yu-Gi-Oh! GX), Synchro Summon (from Yu-Gi-Oh! 5D's), Xyz Summon (from Yu-Gi-Oh! ZEXAL), and the newly introduced Pendulum Summon.
Yu-Gi-Oh! ARC-V centers around Yuya Sakaki, as he tries to escape from harsh reality by smiling. But one Duel leads him to make a determination to confront the difficulties and he will get the power of infinite possibilities. The show's main theme is "Take a step forward with courage!!"
Yuya is a student at a preparatory school, learning to become an "entertainment Duelist", a type of professional Duelist.[3][4]
The story is set in Miami City on the coast of Japan. Leo Corporation is run by its president Reiji Akaba. Thanks to the spread of the company's "Solid Vision with mass," "Action Duels" are born in Miami City and has reached worldwide popularity. Children look up to star-level Pro Duelists, and they learn Summoning and Duel styles at various large and small cram schools, including the You Show Duel School that Yuya attends and the largest of such schools, Leo Duel School (LDS).[1]
One day, Yuya ends up fighting an exhibition match with the current champion of Pro Duel world…[1]
During the duel, Yuya's pendant begins to glow, giving him access to a never-before-seen type of summoning called Pendulum Summoning. This causes the Leo Corporation to take an interest in Yuya. Meanwhile, a dark duelist is trying to take down the Leo Corporation, and he looks exactly like Yuya!
In order to become a pro and follow in his father's footsteps, Yuya must win four matches in a row to qualify for the Junior Youth Championship.